So, what is growth marketing really about?
When you're a startup or scaleup, that's one term that will continually cross your way. But more often than not, it comes with an ambiguous explanation that resonates with 'instant success'; and that's not true.
Growth Marketing is the process of designing and conducting experiments to optimize and improve the results of a target area. If you have a certain metric you want to increase, the tactic is a strategic method that takes you through the smallest of elements that lead to those numbers. 
The strategy resembles a funnel describing your growth model, metrics and initial ideas to boost traction; not only a document of ideas that most companies we've spoken to, create.
If I had to put it graphically, here's what I'd explain it as.
Growth marketing, often referred to as hacking, is focused purely on customer acquisition and customer retention. The tactic employs a range of strategies and tactics to facilitate the scaling of a business including AB/Multi-variant testing. It also focuses on referrals gaining a double loop of growth through customers helping to build and grow the customer base.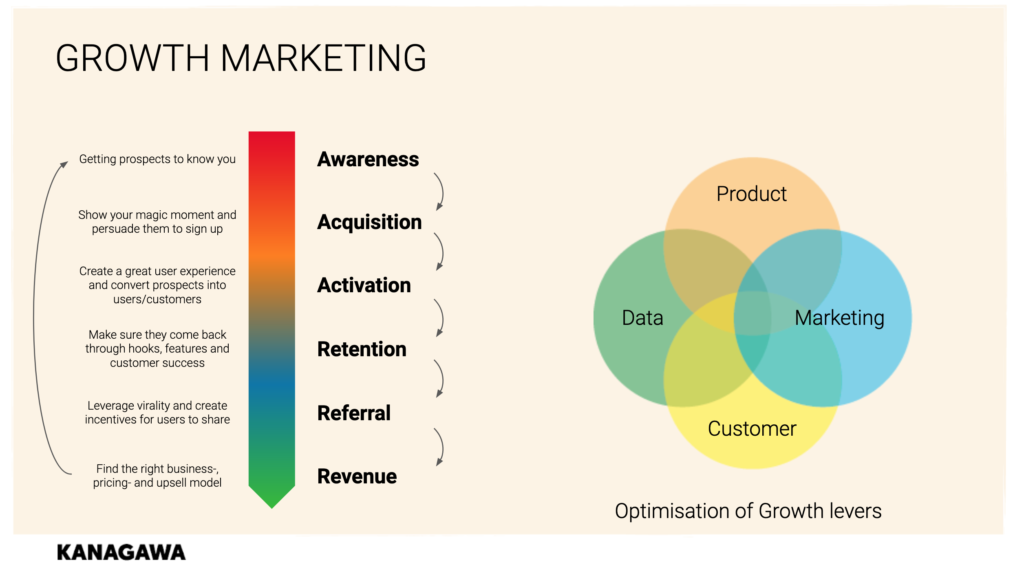 Not sure where to begin? Reach out to us for a consultation today.
Are you someone who likes to take things in their hands? Well, you can also get your growth score here.