Learn how to increase the ROI of your innovation studio by moving the right initiatives within your portfolio.
In the past few years, innovation has become the critical differentiator for organizations to grow, stay relevant and discover new growth opportunities. Innovation is paramount to creating business value. The value can be in the form of creating entirely new products and services, gradual improvements to existing products, or cost reductions.
To keep up with the challenging dynamics, Innovation studios are a unique opportunity for organizations to reinvent themselves.
Innovation studios help organizations conduct research and reiterate projects that are vital investments for firms that have rigid approaches or that work in highly regulated industries. These studios have recently been popping up across various sectors like insurance, financial services, and hospitality, owing to the need of digitization and technological advancements. 
However, the business practice of innovation is still relatively new. Organizations struggle to scale innovations to accomplish strategic goals despite having resources, funds, and the innovation technique in place. According to a HBR article referring to a report from CapGemini, up to 90% of the Innovation studios fail to deliver on their promise.
So, how can innovations add value and generate growth, allowing organizations to go beyond developing and testing ideas?  
In this blog, we're going in-depth to understand how you can increase the ROI of your innovation studio by moving the right initiatives within your portfolio through the innovation funnel faster. 
What are the problems usually seen in Innovation Studios that cause failure?
The success of any innovation studio highly relies on the team behind it. The focus for innovation success doesn't just depend on the solution but also on how well it incorporates with the business. This is where a strong team and relatively more robust governance are critical.
The team leader should have an immaculate track record in managing innovation projects, which is full-time and arduous work.
However, many Chief Innovation Officers, Lab Leads, Venture Leads, and executive teams have difficulty articulating if their innovation lab is distinct from their competitors. 
In other words, they have no clear picture of the performance of the various innovation initiatives within their corporate innovation portfolio. 
Usually, they just have a 'feeling' of how the innovations are doing, sometimes supported by one or two vanity metrics such as ad clicks or likes, without knowing the "why" and "what" of the lab's existence.
What is lacking is a precise reporting mechanism that provides the opportunity to:
Benchmark the initiatives within a corporate innovation portfolio, baseline and over time after an intervention, and individual initiatives against other relevant initiatives within the same industry outside the portfolio.

Identify the most promising initiatives on the portfolio level.

Focus on the right initiatives that are promising and the existing ones that need more focus.
Build a Solid Innovation Portfolio
An Innovation Portfolio aims to manage the inherent risks involved while optimizing the outcomes achieved by innovation investments. The approach aligns financial and technical resources to promising projects that can accelerate results. It defines key concepts that may be implemented in steps recommended for Innovation Portfolio management. 
While it may be unlikely to predict the financial output of innovation at early stages, all innovations are different and present different risk profiles. Take, for example, a decent retirement fund where the investment is spread into high-medium-low-risk categories; similarly, companies must decide how much and where to earmark their resources.  
What puts the company in a particular position in the market? 
While profit margin and choice of products or services may be significant, 'Portfolio' is the one that generates value for the customer and stands apart from other prominent players in the market.
In today's uncertain times, building a solid portfolio and adapting to dynamic business conditions should be companies' top strategies. Implementing ideas from a combination of inside and outside views can help you better manage the innovation portfolio making the outcome more predictable.
Companies must design a definitive innovation strategy, organize their portfolio, and structure their efforts around the innovation funnel.
Create a Well-Structured Innovation Funnel
Innovation is a complex process that requires organizations to take risks to persist and be competitive in a continually progressing market. This is where an Innovation Funnel comes into the picture. It's an essential tool that allows companies to develop winning ideas, avoid wasting resources, and remain focused on their objectives. 
Think of it as a funnel where many ideas come on the broader end, whereas a few finished ideas come out the narrow end, ready to be pitched in the market. These ideas provide excellent value, earn significant revenue and profit, make the best use of the resources, deliver on project objectives, and align with organizational goals.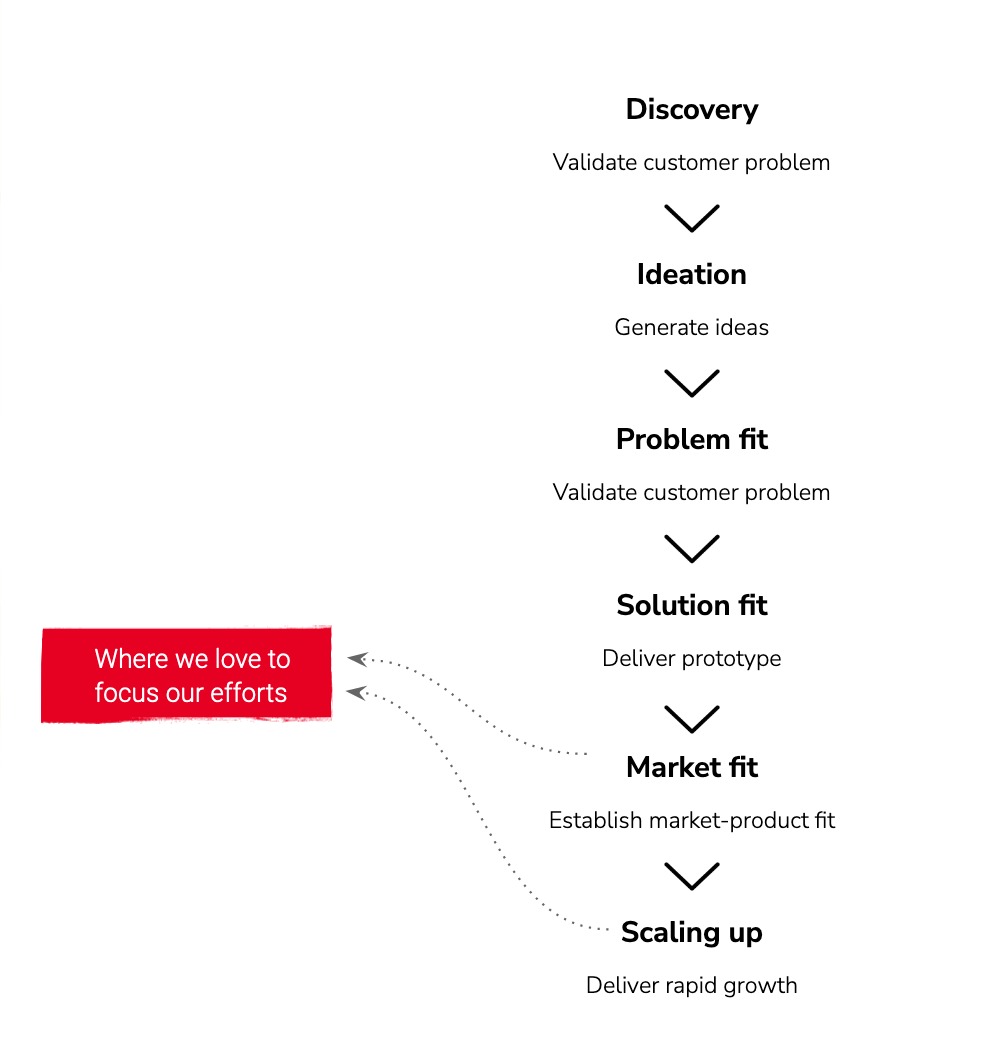 Establish Clear Objectives
The initial point of any innovation funnel is to look for ideas. Instead of spending valuable time and resources in ideation, if clear business objectives are provided, then guiding all innovation efforts in the right direction becomes easier. 
Setting clear objectives beforehand will help follow all the steps systematically to fulfill these goals.
Focus on your Innovation efforts
Focus your innovation efforts around your core competencies to increase effectiveness. 
Companies that focus on what they are best at are more likely to thrive with the potential to make an impact. Establish focus by implementing a proper conversion funnel and reporting structure. 
Bring in the right marketing strategy and skills with people with substantial marketing experience early in the funnel. Involve the suitable people in the phases before Product-Market fit to increase focus and let the appropriate teams succeed. This improves the efficiency of the teams during the Product-Market fit phase.
How to achieve the right focus for your innovation portfolio?
While there is no one-strategy-fits-all approach, we do recommend following the two levels below to align your innovation portfolio for success. 
On portfolio level 
1. Baseline assessment 
Baselines are critical to demonstrate success with changing initiatives, allowing you to assess your project's performance over time. It is clearly defined at the initial stages of your project plan and is used as a reference point to measure and compare your project's progress.
We at Kanagawa have built the Traction Tracker, which analyzes the performance of all initiatives within an innovation portfolio based on five axes: commercial strategy, customer profile, value proposition, growth plan, operating model, and business case.
As a result, you get a quantitative metric that allows you to benchmark against a minimum readiness mark, over time, with other industries, etc. In addition, the Traction Tracker points out the gaps that need to be addressed to accelerate growth by giving you an overall score on your performance. It comes with a free report packed with insights and measures to be taken based on your answers, which will help you strategize your next steps.
2. Intervention and support of the right teams
Innovation is a team game, and the right combination of talent is imperative for projects to succeed. Team leaders with practical management abilities help maintain an innovative culture.
Scaling an innovation effectively requires the experience of responding to and navigating new contexts. The team members must be adept at crafting unique yet realistic visions and conceiving innovative value propositions that sync with customer challenges while managing uncertainty.  
We are covering more about aligning the right team for your Innovation Studio in the section below. 
3. Measure progress based on the Traction Tracker
A great leader, Thomas Monson, said, "When performance is measured, performance improves. When performance is measured and reported, the rate of improvement accelerates."
However, without setting targets or key performance indicators, there is no way to measure and optimize the process, which is a common sight in most innovation labs that fail.
Hence, measuring progress based on the traction tracker will help optimize further. This step is crucial as it provides a clear picture of the progress, resulting in the required reporting structure enabling you as a CIO/Lab Lead/ Venture Lead to make the right investment decisions.
On the team level
1. Baseline assessment 
The Kanagawa Traction Tracker is also used to measure individual team levels to identify the most critical areas for improvement. The Traction Tracker generates a plot of the market readiness of an initiative and tracks the progress of where your initiative stands in achieving its ambition. It identifies gaps that need to be addressed before reaching product-market fit and scaling – both in terms of your product as well as the team you have in place (more about this in the section below). 
2. Draft a growth backlog
Drafting a growth model with essential steps for validating your riskiest assumption, usually related to Problem-Solution Fit, Product-Market fit, and scaling, is imperative for real-time results. One of the critical elements of the growth backlog is the growth model, usually represented as a conversion funnel.
Growth is a recurrent and systematic way to create a meaningful and sustainable business. A growth model is a strategy to maximize revenue and profit by acquiring new customers while retaining existing ones.
It measures your efforts toward growth at each step of the marketing funnel. It involves the most relevant metrics and how to connect each step in the customer's buying journey, leading them across the sales funnel until a sale is secured and adds to your business revenue.  
3. Outcome
By addressing these crucial things, you can identify which part of the conversion funnel needs the most attention and how you can progress by focusing on the right metrics. In the end, you are sure that everybody within the team is focusing on improving the same metric.
How to align the right team for your Innovation Studio?
A dream team for any innovation requires talent and diverse traits that strive with a special mission to make the company genuinely innovative. It takes a diverse team to succeed who bring a mix of skills, a passion for innovation, and know how the company works.
But 95% of innovative start-ups end after five years. There needs to be more than a good sense of intuition, experience, or a perfect team to make innovation successful.
Critical to a successful business, product-market fit means there is a market demand for what you're selling. However, the primary cause of innovation failure is poor marketing and misalignment between the proposed offer and the market's actual needs. 
Despite having a dream team in the corporate innovation studios, many teams need help to reach the phase of Product-Market Fit. 
Several boxes need to be checked during the product-market fit phase rather than in earlier stages, for example, a certain retention ratio and Customer Acquisition Cost Vs. Customer Lifetime Value ratio. 
If the initiatives don't belong in this phase, they will not report a healthy Product-Market fit metric. This lowers the team's motivation, and the Return on Investment (ROI) will stall.
Identifying the right team that belongs to the specific phases of innovation is critical. Based on a proper reporting structure, lab management can categorize an appropriate team for the crucial Product-Market fit phase. 
If this is managed well, then a few skilled teams will be involved in the more advanced stages of the funnel resulting in more focus on the right teams and most certainly resulting in a healthy ROI and team dynamics.
How to identify the right skills for the team?
More often than not, it is noticed that in the initial stages of corporate innovation, during the exploration and problem-solution fit, the team has 2-3 people, usually engineers and validation experts.
These teams mainly focus on developing the 'product' and its features. When the core team realizes the need to hire a marketer, it's a little too late. Then a performance marketer is hired who focuses on top-of-the-funnel metrics and their execution.
In most cases, this results in a situation where the teams in the field of marketing have no clear direction about what they have to do. The result is that the sales cycle time becomes too long with little to no conversion at all. This delay leads to demotivated teams who fail to achieve little to no success, waste resources and have low Return on Investment (ROI).
As a Founder or Commercial Lead, you must facilitate this process and see that your team starts early with proper marketing. Base all your efforts on a sound commercial strategy and address your critical strategic choices, e.g., your product market combinations, USPs and revenue model, customer personas, buying process and how to reach them, and corresponding value proposition.
Conclusion – Your Innovation Studios Must Ensure Maximum ROI
It's evident that having a proper innovation funnel to achieve product market fit is crucial to maximize the ROI of your Innovation Studio.  
Since 2018 we have been helping various corporate innovation studios to optimize the ROI of their innovation studio. We enable teams in corporate accelerators and individual start & scale-ups to achieve product-market fit and move into scaling by finding their ideal customers and realizing double-digit growth.
Reach out to us today for growth modeling to achieve product-market fit in no time.