In our recent blog, we discussed the seven magic questions which determine how much you have achieved in terms of defining and validating your idea. Now, begins the ever-challenging journey to finding a product-market fit.
Most of the start-ups we have worked with were well equipped for success as they successfully validated their value hypothesis, which tests whether a product or service is valuable to potential customers.
However, many of the companies struggled to validate their growth hypothesis, which tests how potential customers are going to find the brand and also equips them to grow their business at an improved pace.
During consultations, a question we are often asked is– "We think we have reached our product-market fit. Do you agree?"
Unfortunately, we have to disagree in most instances.
Before we get ahead of ourselves, it is important to define what a product-market fit is.
What is product-market fit?
Product-market fit is a term coined by Marc Andreesen, an entrepreneur and investor who has developed this concept. Finding a product-market fit means that you have to find the right market for your product so it has enough users for the company's growth and profitability.
A lot of startups fail because they do not know how to achieve product-market fit despite being capable of making a good product.
In this sense, there is no one-size-fits-all way, definitive to simplify the process but having realistic expectations is a great start.
The definition of market fit is not only important to identify early on in the startup life cycle but is necessary for everything that follows including downstream investment and future company operations.
Having product-market fit has different meanings depending on where you are in your startup life cycle or growth stage.
Assuming you are bootstrapped and have limited resources, finding product-market fit usually means you have validated an initial idea within the target segment and now need to maintain focus so you can grow your business when you are ready.
However, reaching there is no child's play. This is because product-market fit incorporates quantitative and qualitative elements.
Quantitative elements
There has been a push in recent years to use specific benchmarks for measuring product-market fit and satisfaction.
For example, VCs have been increasingly interested in measuring things like engagement and retention as key actionable items with regards to their investment strategies. This is because they have wisely recognized that the most important metrics deal directly with how much time users are spending with your product, rather than simply evaluating the numbers of total active users or total revenue generated.
The above numbers do not give investors an idea as to whether the user base is increasing or decreasing month-over-month, which is important when gauging company health between funding rounds for startup businesses in particular.
That's why metrics like monthly active users or monthly recurring revenue are preferred. It helps firms predict how long they can sustain their business by allowing them to see how often people interact with their product or buy new products or services from the company.
While looking at the retention value, an average of 30% active monthly users is a good start at validating product-market fit.
Another good indicator of finding a fit is your acquisition rate. Here you will look at organic and paid conversions. However, your aim should be to have at least 20%- 50% of the overall conversions through organic channels.
It is because a significant portion of the revenue of a company is generally spent on marketing. In short, they are incentivising customers to purchase more products through advertisements and referrals. If your business can implement a model in which traffic can be driven without spending any money on marketing then you have unraveled a business model that will generate profitable income.
The third important indicator of a good product-market is the customer lifetime value (CLV) to customer acquisition cost (CAC) ratio.
Once you have your customer lifetime value, you can determine your customer acquisition cost. Direct your acquisition efforts on customers who may make small purchases but might use your product for longer. It will be more effective if you focus on high CLV customers because it will result in spending less on customer acquisition. After all, extremely valuable customers will bring in more in the future with their multiple purchases and even pass along additional customers through word of mouth.
If a startup spends more on customer acquisition, the business will not be profitable. The CLV: CAC ratio should be 3:1 for each segment of marketing you employ. If you spend too much (e.g. 1:1 ratio), acquiring those customers will not be profitable because the prices they paid did not exceed their lifetime value.
For businesses with low profit margins, bid caps are likely going to be set at a premium. It makes sense to acquire customers more efficiently by spending more in order to acquire fewer customers and create better margins. This allows the business to grow quicker than its competitors.
On the other hand, if your prospects have very high profit potentials due to their willingness to spend more on the products or services and you have room at your maximum bid caps, it would be wise to expand your budget for acquiring these new customers because doing so will increase profits fast in the long run.
Qualitative elements
A Net Promoter Score, also referred to as an NPS score, is an extremely useful metric to measure customer satisfaction with your product or service. The NPS score ranges from -100 to 100 which estimates the probability of customers being "promoters" vs. "detractors". The ones that lie in the mid-range are called "passives".
They are not particularly harmful to the brand but they also will not recommend your products to others. In essence, the score is simply an index that measures the willingness of people to recommend a company's products or services to others.
The survey asks a single question: How likely are you to recommend our company/ product/ service to a friend or colleague? This metric can help show how satisfied the company customers are and how loyal they feel towards the brand.
The NPS score can be diverse across industries. However, an NPS above 0 is considered a good start, indicating that your product generally meets its intended purpose. If the score is 50 or in that ballpark, it is a sign that you are on the right track with your customer. The closer you get to 70, the more exceptional your business is. For a statistical evaluation of NPS to be helpful, you will need a significant number of responses.
NPS is a good starting point to gauge the quality of your product. Using it in conjunction with a question that also helps you understand the reason for the rating will prove to be more beneficial.
Another important metric that will help you get an estimate of your product's desirability is a product-market fit survey. Also known as the Sean Ellis test, this survey answers the question, "How disappointed would you be if you could no longer use this product?" It will be more useful if it is followed up with open-ended questions that further probe into the responses. The minimum sample size you survey is 40-50 people. Of course, the more respondents you have, the better your results will be.
If over 40% of the respondents say they would be very disappointed, move forward with your product. Allow for open-ended responses to understand the 'why'. If you are close to 40% but fall a little short, learn what you can introduce or remove from your product to increase the numbers above the line and what solutions customers consider as feasible options to their problems.
Now that we have covered the why, i.e., growth hypothesis and the what, i.e., quantitative and qualitative elements, let's understand how you can reach product-market fit.
How can you reach product-market fit?
In this section, we will cover the process and team. If you have your processes in place with a team that can execute their primary roles well, you will reach closer to success.
The process
The GROWS process by the Growth Tribe involves steps that allow growth hackers to experiment and implement strategies for the business. The five steps are: gather ideas, rank ideas, outline experiments, work and study outcomes.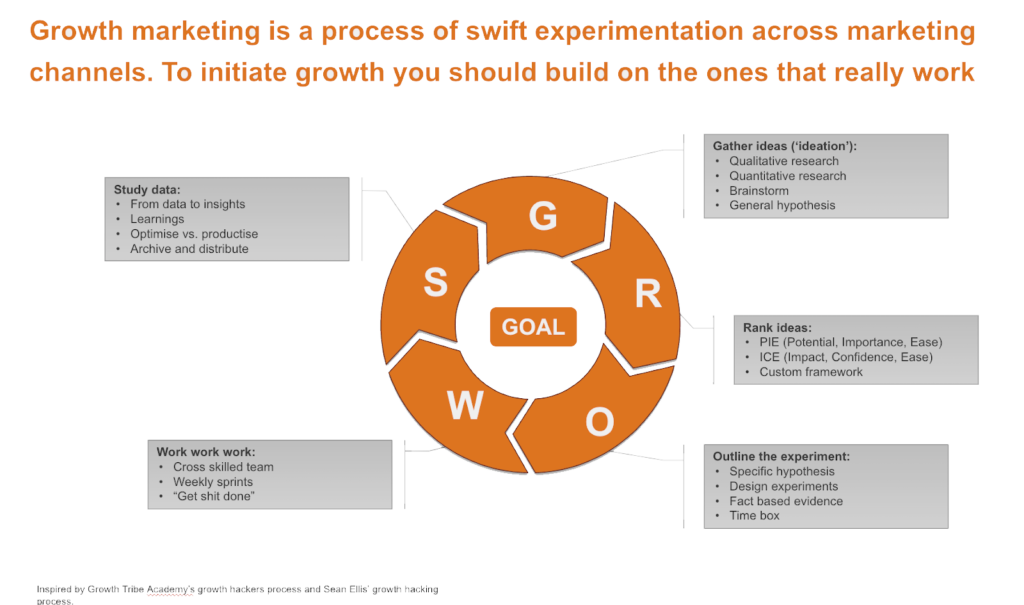 Gather ideas
One of the most important steps you can take to improve your business is to track metrics. Whether it's conversions, user behavior, profits or other areas, tracking metrics is one way you can better understand how your company is doing against competitors.
At this stage, you will use analytics to gather data to ascertain which part of your funnel has been pinpointed as being "leaky". You can use tools like analytics, heatmaps and surveys to gather this data.
Rank ideas
When evaluating data from your analysis there are usually many ideas and even more opportunities. All of these cannot and should not be implemented at the same time as you run the risk of overwhelming yourself, becoming ineffective and/ or burning out in the process. To get an estimate of which ideas have the highest ROI, use the PIE or BRASS framework.
Outline experiments
Once the ideas have been evaluated, a funnel analysis is done to analyze data such as customer behavior, conversion rates and customer lifetime value. If anything unusual arises from the findings (if there are unusually "long" funnels or if there aren't enough conversions for example), we try to optimize that part of the funnel in question by A/B testing or redesigning it for better performance.
Now that things have been optimized, we describe what will happen next: what tests are needed to measure customer behavior and which relevant data points we need to track alongside the number of tests we will be conducting and how long they will last.
Work
Try to execute the tests within 2-4 weeks. Weekly sprints with the specialists on the team could be valuable in understanding if you've hit any roadblocks. A precise overview of what's done, is being done and is to be done will help keep things on track.
Study outcomes
Here you will focus on deriving concrete insights from the steps above. If the results are positive, use them in your marketing. If the results are negative, jot down the learnings and repeat the process. Learn more about setting OKRs and measuring them here.
Team
Having a growth team in place is crucial to optimize your processes and resolve issues. A powerful team helps your business gain a new perspective and it can also aid in the sustenance of growth.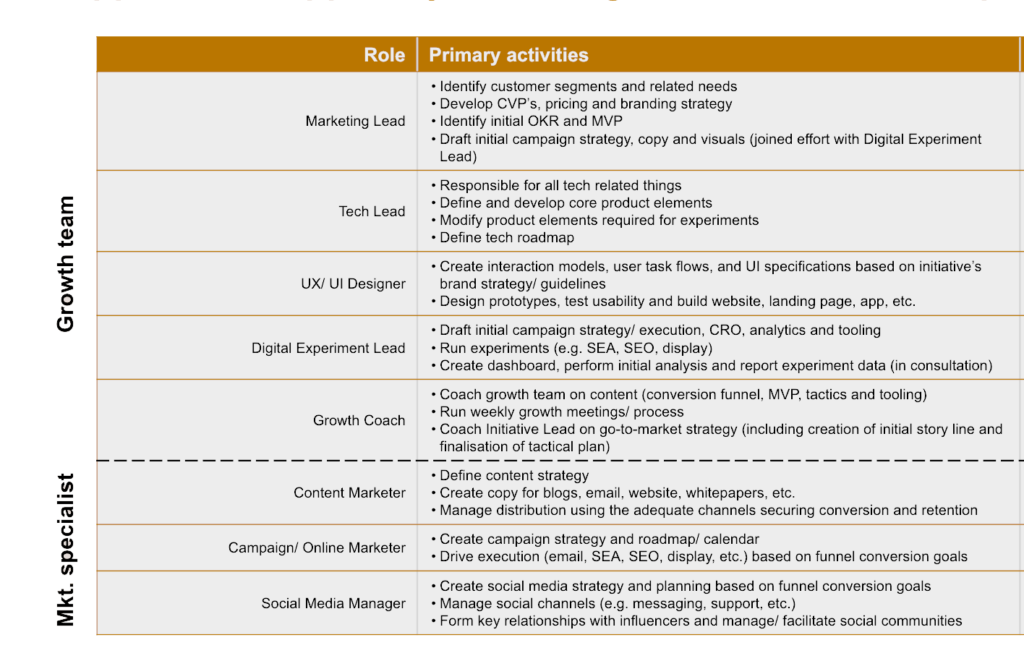 Growth team
Marketing lead– They will help identify customer segments and their needs; develop a value proposition along with pricing and a branding strategy; specify objective and key results (OKR) and the minimum viable product (MVP); they will also help draft the campaign strategy and the content and imagery that will go with it.
Tech lead– They help define and develop product elements and modify them as required; they are also responsible for developing a strategic tech roadmap of the product.
UI/UX designer– They create interaction models, user task flows, and interface based on brand strategy and guidelines; they design prototypes, test usability and design the website, app, etc.
Digital experiment lead– They create the initial campaign strategy and execution plan, optimize the conversion rate, and get the analytics; they run experiments for search engine advertisements and optimization and provide the insights of their experiments.
Growth coach– They assist the growth team with the conversion funnel, value proposition, growth tactics and tools; they pilot weekly sprints and help set processes. If you don't have one, you can reach out to us here.
Marketing specialists
Content marketers– They define the content strategy; create copy for multiple channels like emails, newsletters, blogs, e-books, whitepapers, etc.; ensure conversion and retention of customers by creating content for the necessary platforms.
Campaign marketers– They are responsible for the product's campaign strategy and the roadmap to it; work on execution of advertisements and SEO among other things based on the conversion funnel goals.
Social media managers– They focus on creating a social media strategy that aligns with the conversion funnel; manage the brand's social media accounts; form relationships with influential people online and create a community on these platforms.
Additional read: 12 things about product-market fit you should know about.
So, have you reached product-market fit?
Although you have the what, why and how of product-market fit, you aren't quite there yet. While you may have paying customers who say they like your product, their positive responses may be due to the social construct of being polite. In that case, a better indicator to validate a product-market fit is retention.
When you derive a hard value for it, you will realize that no other metric is as important as this.
Other good indicators of product-market fit are restocking inventory often, a high number of sales inquiries, a high number of website sessions per user, and/or continual positive coverage in the media.
With these metrics at your disposal, you can finally ask yourself— "Have I reached product-market fit?"
Like most things, it's a challenging process to uncover the needs of all potential buyers. But you should never stop trying! You will have to revise your plans as you go along and try to find patterns that work best for your business as well as what kinds of buyers will have the most interest in your product.
Always make sure that your brand messaging is tweaked when necessary to keep up with the growing market.
If you want to learn more about acquiring and retaining your users, subscribe to our blog today to get notified for our next post on growth modeling.
Can't wait? Reach out to us for growth modeling.