Learn how to achieve Product-Market fit faster to accelerate the commercial success of your scale-up.
When we hear the word 'start-up,' we think of young entrepreneurs with ground-breaking ideas, scalable business models, novel technology, and high-tech innovations creating a new product or service under uncertainty.
However, being a start-up is temporary because innovative companies evolve into scale-ups once it validates that their product is a fit and sustainable within the marketplace.
However, 90% of innovative start-ups end after five years, even before scaling. Some significant reasons for start-up failures are pricing or cost issues, user-unfriendly products, poor marketing, and product mis timing.
What problems are faced when trying to achieve product-market fit faster and scale effectively?
According to a report by Deloitte, the odds of a start-up becoming a scale-up is around 0.5%, meaning only 1 out of 200 start-ups make it to the sought-after title of a scale-up. A unicorn start-up makes up a small fragment of scale-ups; currently, only 600 start-ups are valued at over $1 billion globally.
Suppose you have a successful start-up with respect to an ideal acquisition, market share, or current levels of profitability. 
So, the next obvious step is scaling up your business. 
But is it that easy to move from one phase to the next? 
What are the main challenges once you get there?
Scaling involves a larger investment in terms of both resources and time. It also means hiring more employees, increasing marketing expenses, and investing more capital into the product or service. And most essential for profitable growth for a scale-up is a product-market fit.
But more often than not, new start-ups are fixated only on scaling rather than building a product, creating a solid brand identity, and establishing a market. 
As the Roman philosopher Cicero once said, this is like putting the cart before the horse.
So let's deep dive into the challenges you may face in accelerating the commercial success of your scale-up and how you can address it. 
Challenge #1: Identifying the right skills for your team 
A business is scalable only when it has reliable team members on board. 
Scaling up demands an expanded skill set, and it takes more than a founder to build a successful business. So working on your leadership and building a broad team with the right people on board can help your business scale. 
Hire those full of good ideas, have more than one skill set, and can do what a program can't do. Hiring people with multifaceted skill sets who can be assigned to different tasks helps your business stay agile in the face of rapid change.
However, it is essential to narrow your team and define their roles as your start-up transitions into a scale-up. Whether branching out your sales and marketing people into two different departments or recruiting experts for each position within those departments, scale-ups must focus on enhanced delegation for growth.
When the members don't focus on the marketing strategy, the teams are clueless and lack a clear direction of what needs to be done. As a result, the sales cycle time is too long, affecting conversions and low retention. This little to no success demotivates the teams, wastes resources, and leads to low Return on Investment (ROI).
But the problem usually seen in the early stages of scale-ups is that only 2-3 people, primarily engineers and validation experts, are being hired.
Hiring an experienced management professional in the early stages of your scale-up is a big plus point and can transform your business into a more robust and organized company.
It is always a challenge to hire and retain top talent. But it is necessary to have a team of skilled and resilient members in place before undertaking any expansion plans. As a leader, you must ensure your teams have adequate resources. Ensure that your team is fully equipped to focus and face the challenges when the company scales, whether it is new hires, increased server capacity, or new equipment.
As your start-up transitions to a scale-up, narrowing down your team positions is essential. For a substantial change in your company's growth, it is advised to assign the following roles within your growth team:
1. Marketing Lead/ Head of Growth  
A Head of Growth is responsible for the customer lifecycle. Growth Marketing Leads lead their teams and drive growth for businesses using media, design, and data/technology. Typically, a growth marketer helps develop CVPs, pricing, and branding strategy in a data-driven role by identifying objectives and key results.
They coach the team on conversion funnel, MVP, tactics, and tooling by conducting weekly growth meetings. They also coach the CEO and team on go-to-market strategy, including creating the initial plot and finalizing the tactical plan.
2. Product/ Tech Lead
A Tech Lead is responsible for all tech-related issues. They define and develop core product elements, modify product elements required for experiments and define the tech roadmap.
3. Content Marketer 
A content marketer is a professional who designs the content strategy. Content marketers create informative content that's relevant to the field the business works in. They make a copy for blogs, emails, websites, whitepapers, etc. They manage distribution using adequate channels securing conversion and retention.
4. UX/UI Designer 
A UI/UX designer creates user-friendly interfaces that make it easier for the users to understand how to use complex technical products. They design prototypes, test usability, and build websites, landing pages, apps, etc. They create interaction models, user task flows, and UI specifications based on the initiative's brand strategy.
5. Digital Experiment Lead  
A digital experiment lead is responsible for drafting the initial campaign strategy and execution, Conversion Rate Optimization(CRO), analytics, and tooling. They create a dashboard, perform initial analysis, run experiments such as SEA and SEO, and then report the experiment data.
Challenge #2: Building the right focus in the team  
To become a great leader, you must accept that you won't be able to do everything by yourself and must learn to delegate. Invest your time and effort to manage your team effectively, and help people play to their strengths. Set clear expectations, and give employees a clear line of sight so you're not getting involved in tasks that should be taken care of by others.
Having said that, it's also unacceptable that the founders and commercial leads have no clear picture of how their initiative is performing. Sometimes, some just have a vague feeling of how the initiative is doing through one or two vanity metrics such as ad clicks or likes.
Implementing a proper reporting system is vital, containing all the relevant metrics, from awareness to retention, revenue, and referral. 
All that needs to be done is benchmarking the initiative with the other significant ones within the same industry, reporting the necessary key performance metrics that are often a requisite for potential investors, and focusing the efforts within the team in the same direction.
Creating the right focus can be achieved in 3 simple steps: 
1. Baseline assessment
How do you track growth? The growth of a business is a lot of things, from measurable things like the number of customers, revenue, profits, and more to indeterminate factors like how synced your efforts are. 
This is where Kanagawa's Traction Tracker comes to your rescue and acts as a plot for your business growth strategy.
Kanagawa's Traction Tracker has been built to evaluate performance based on customer profile, value proposition, commercial strategy, growth plan, and operating model. You get a quantitative metric that allows you to benchmark against a minimum readiness mark over time with other industries. It also provides an in-depth insight into the disparities that need to be focussed on to rapidly achieve the ideal Product-Market fit and scale.
2. Create an effective growth backlog 
Growth refers to increased revenue as a result of being in business; hence having a growth strategy should be of utmost priority in your business plans.
An elaborate growth backlog should be drafted containing your most risky assumptions, generally associated with Problem-Solution Fit, Product-Market fit, and scaling. A growth model, usually represented as a conversion funnel, is one of the vital elements of growth.
A growth model is a strategy to maximize revenue and profit by acquiring new customers while retaining existing ones. It helps you understand how your customers will use your product or service and what marketing channels you should focus on to drive sales.
3. Outcome 
Once these critical aspects are addressed, it's easier to identify which part of your scale-up needs attention. You can then strategize and progress further by focusing on the right metrics while ensuring that everybody within your team focuses on improving the same metric.
Challenge #3: Establishing the right process for the team 
As you scale your business, reflect on your current processes and identify what practices are ineffective and hinder your business growth. Inefficient processes are estimated to cost your business between 20-30% of its revenue annually.
When you are looking to scale your start-up quickly, having suitable systems in place will help you achieve the goal of running a growing business smoothly. It is also possible to attain quantitative growth by streamlining your current processes.
Growth marketing is a process of swift experimentation across marketing channels. It helps businesses grow by enabling customer loyalty, going beyond the process of marketing a product. 
To initiate growth, you should build on the strategies that work. While conventional marketing focuses on pushing propositions via a linear process, growth marketing is about creating and applying rapid user insights.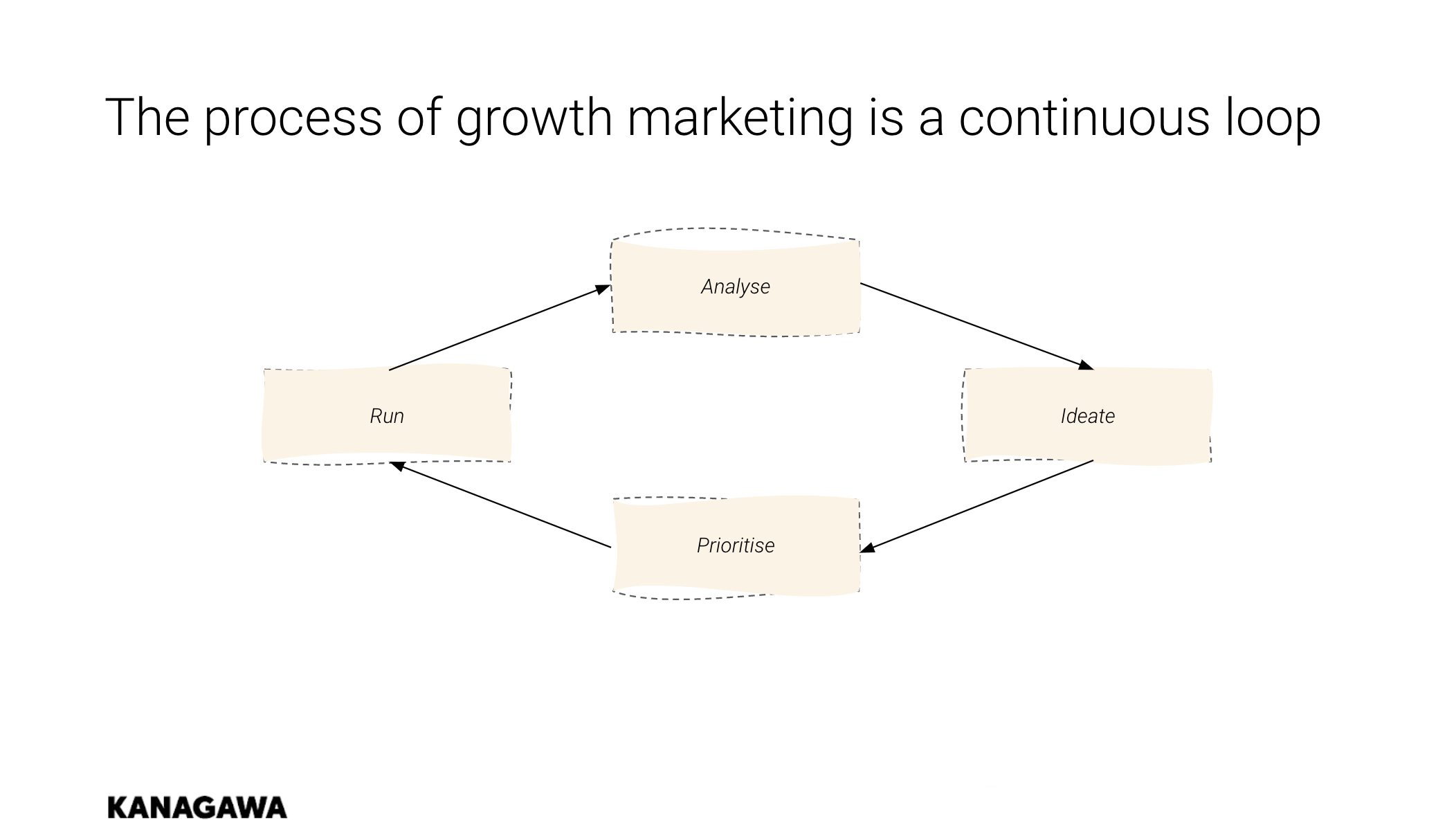 The initial goal of growth marketing is to validate your growth hypothesis, i.e., how future customers will find you and help you grow. The process is relatively simple:
Analyze the available data to draw the initial hypothesis you want to validate.

Ideate by defining a long list of experiments you want to run to (in)validate your hypothesis.

Prioritize the experiments you want to run first. Use the TIR ranking system, which assesses your experiments based on their potential required Time, Impact, and Resources.

The most critical step of the process is to run your experiments. When your team does this efficiently, they can validate more experiments, resulting in a competitive advantage. Subsequently, you can optimize your experiments, (in)validate your hypothesis and eventually accelerate growth!
You can use the growth marketing process when developing a sound value proposition and related content. Start by answering the simple question: "What real value am I delivering to the customers?" Create compelling copy and (In)validate based on your online and offline campaigns.
Conclusion
The difference between growth and scaling becomes most evident when your company isn't exactly a start-up but has yet to reach the level of a corporation. 
While the fundamentals of business growth remain the same, the difference lies in how you strategize to reach your audience to hop onto the desired growth trajectory.
We will work with you every step of the way to nail your growth plan and scale your business. 
Reach out to us to achieve double-digit growth!